By way of impressive forethought or an incredible coincidence, today's Geek Pride Day has been highlighted by the release of Firefly: Still Flying: A Celebration of Joss Whedon's Acclaimed TV Series, a new book of pr0n (including new stories!) for Firefly and Serenity fans.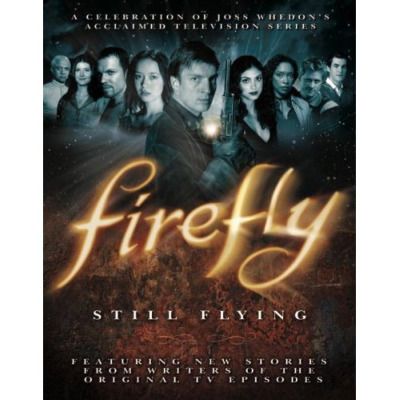 Still Flying is a brand new celebration of all aspects of the show, featuring a wealth of rare and previously unpublished images — including storyboards, production design art and candid behind the scenes photos — memories from the cast and crew, a tribute to the Browncoats, and, as a special bonus: exclusive new Firefly fiction by writers of the original TV episodes.
I rarely buy new books–because such is the way of my Ninja Clan of Frugality–but I am slathered in the sauce of weakness when it comes to the Firefly-verse, so I'm probably going to buy the damn thing today. It sounds like it's worth all 1,346 pennies.
In addition, for those of you equipped with Blu-ray players–the DVD Machines of The Future–Firefly: The Complete Series on Blu-ray is on sale right now for $29.99, which is 69% off the list price.
Of course, if you absolutely insist on spending abusively to celebrate Geek Pride Day–and, really, how else are holidays celebrated?–Entertainment Earth has the Captain Mal Reynolds pistol and holster replicas listed for a grand total of $460. Have at it.
Find Mal Reynolds pistol replicas on Ebay