« Thanks, Photoshop!: Real-Life Teenage Mutant Ninja Turtle | Main | Oh, No He Didn't: Sarlacc Tattoo [Geeky Tattoo] »
By Great White Snark | June 18, 2010
To any of you who were perhaps planning on making a perfectly-spherical, intricately-detailed Epic Pac-Man Cake to Win the Internets: sorry, Toots. You've been preempted and one-upped by a half-assed* two-layer, sloppily-frosted banana cake.
Omar K's friend Jennie owned all of you with the 66% execution and 153% creativity behind this Pac-Man cake she made for his birthday.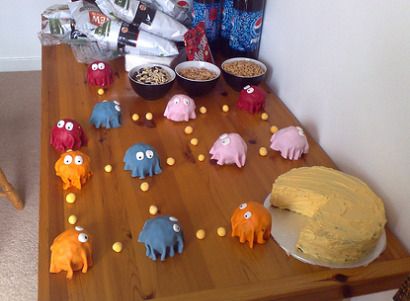 The Ghosts were banana, white chocholate and cherry cupcakes covered in sugar icing. Everyone felt guilty eating them they looked so cute.
* Relatively speaking. I mean, you've *seen* some of the cakes on this blog, right?
Find the Pac-Man potholder on ThinkGeek
You may also like these stories:
Topics: Cakes, Games | 2 Comments »
Tags: Cakes, Games, Geeky Cake, video games
2 Responses to "But It Has a Great Personality: Clever Pac-Man Cake [Geeky Cake]"
Omar Says:
June 18th, 2010 at 5:31 am

Thanks for the link guys, the cake tasted awesome which is what really matters. I think the coolest thing about it was the ghosts.

CeltJono Says:
June 18th, 2010 at 1:23 pm

omnomnomnom
I so want this cake now… Omar, how did Jennie make those ghosts?
Comments