Ok, so the depiction of the guts spilling out of the last tauntaun cake might have been truer to the source material, but you've got to give this cake capturing the Wampa cave scene from The Empire Strikes Back some credit for enthusiasm.
Messily-bloody enthusiasm. Which is my third-favorite kind.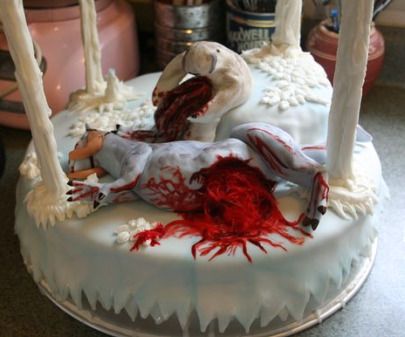 The Barefoot Kitchen Witch crafted the chocolate-with-strawberry-jam Wampa cake for her son's 8th birthday:
I thought it would be even more cool (especially for a bunch of second graders, mostly boys) to cut to the next scene […] where Luke is hanging upside down in the Wampa's cave, while the Wampa chows down on what it probably some portion of the unfortunate Tauntaun's anatomy. I suggested it to Alex [the 8-year-old], and he agreed it would be cool.
Yeah, Alex might have been all, "Yeah, I guess that sounds pretty cool," but in his brain, it was all, "OMG WAMPA BLOOD TAUNTAUN BLOOD GORE COOLESTKIDATSCHOOL YESSSSSSSS!"
Enjoy BKW's delightfully-concise commentary on these other photos of her cake.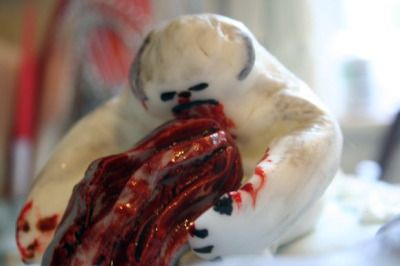 "This is a Snow Wampa."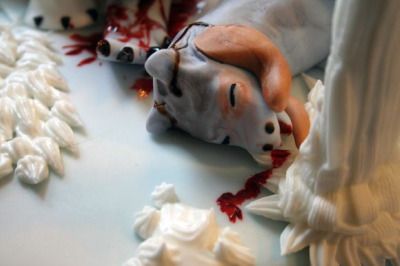 "That's a Tauntaun.  It's dead."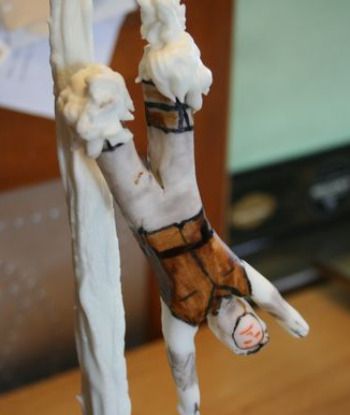 "Luke on a Stick."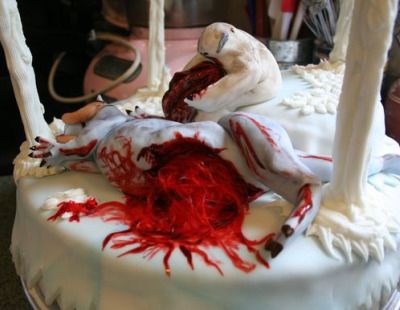 "…guts made from Asian cellophane noodles"
For more photos of the cake and its creation, check out BKW's post.
Via Brian Truitt, who claims that Tauntaun guts taste like chicken. Or, more specifically, like chicken guts.
Find the Star Wars Wampa Rug on ThinkGeek