Someday, I, too, hope I can find someone with whom I can share love and a careless disregard for being taken seriously in most professional settings.
No. Really.*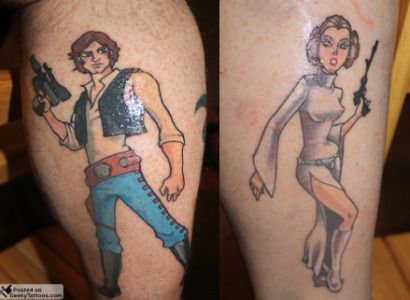 Via Geeky Tattoos:
Caryn ( @carynashton) sent in the tattoos that she and her husband Jeff ( @otherjeff) got for their 10 year anniversary. Rather than go the cheesy route with hearts and flowers and crap, they went geek.
Yep. I'd personally opt for the "geek" route over the "crap" route any day.**
* Not really.
** In case it somehow slipped by you: this is a lazy joke.
Find Slave Leia costumes on Ebay