« Apparently Ke$ha Is Still Relevant: Star Trek: Tik Tok Music Video | Main | What Are You?: Raver Batman [Video] »
By Great White Snark | June 22, 2010
Someday, I, too, hope I can find someone with whom I can share love and a careless disregard for being taken seriously in most professional settings.
No. Really.*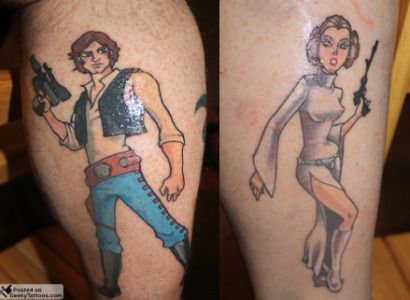 Via Geeky Tattoos:
Caryn ( @carynashton) sent in the tattoos that she and her husband Jeff ( @otherjeff) got for their 10 year anniversary. Rather than go the cheesy route with hearts and flowers and crap, they went geek.
Yep. I'd personally opt for the "geek" route over the "crap" route any day.**
* Not really.
** In case it somehow slipped by you: this is a lazy joke.
Find Slave Leia costumes on Ebay
You may also like these stories:
Topics: Star Wars, Tattoos | 2 Comments »
Tags: Geeky Tattoo, Han Solo, Princess Leia, Star Wars, Tattoos
2 Responses to "Oh, Nerd-Love: His and Hers Han and Leia Tattoos [Geeky Tattoos]"
Keebler Says:
June 22nd, 2010 at 11:34 am

HEY! I have the LIFE SIZED statue of that Princess Leia tattoo!

Alexandra Says:
June 23rd, 2010 at 3:34 pm

What body parts are those on?? The perspective is freaking out my ability to tell. Not sure I really want to know, but it is bothering me.
Nice designs.
Comments