LucasFilm went to quite an effort to erase all traces of the Star Wars Holiday Special from our collective institutional memory. (Darn interwebs!)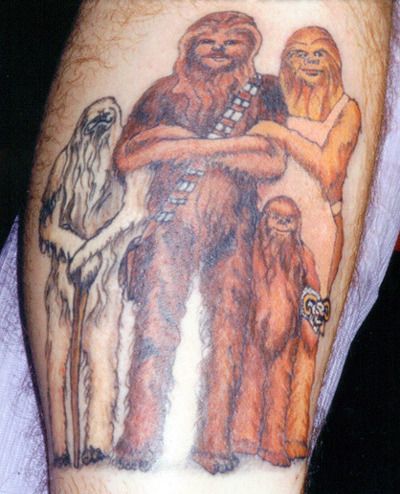 Well, this guy sure went and showed Lucas! Not only has he permanently etched a tribute to arguably one of the most-terrible TV specials of all time, but he's done it with reference to one of the most terrible features of that terrible TV special: Chewbacca's unnervingly-domesticated and -dorky Wookiee family.
In your face, Lucas! This guy definitely showed you and coincidentally doesn't look like a short-sighted moron at all!
Via Force in the Flesh, who has nothing against morons, as long as they're sporting 20/20 vision.
Find Kubrick Boba Fett Holiday Special figures on Ebay