« Thanks, 1970s!: Vintage Star Wars Beer Steins | Main | The Top Twelve Awful Twilight Tattoos »
By Great White Snark | June 29, 2010
Lisa on deviantART knows you can't go wrong when you mix evil and adorable.
Which explains how Alvin and the Chipmunks: The Squeakquel banked $443 million. (Since you were wondering.)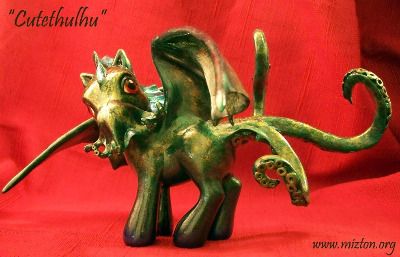 Via Toycutter, who cannot explain your inexplicable fascination with Cthulhu, so stop asking.
Find the Cthulhu plush on Amazon
You may also like these stories:
Topics: Toys | 3 Comments »
Tags: Cthulhu, Custom Toys, My Little Pony
3 Responses to "Don't Look Straight at It: My Little Cthulhu"
Larissa Says:
June 29th, 2010 at 12:11 pm

Love!

trek_grrrl Says:
June 29th, 2010 at 12:13 pm

You can find the Cthulhu plush on thinkgeek.com too, that's where I got mine; he guards my cubicle at work.

wiredwizard Says:
June 29th, 2010 at 12:16 pm

Still more fearsome looking than Chibithulhu!
Comments