Oh, Twilight. I tease because I love.
Ha, ha. Just kidding. I hate you and you're terrible.
12) The Shiny Edward Cullen Leg Tattoo
Sparkly Edward Cullen meets The Terminator meets holy hell, you got permanently etched on your skin on purpose?
11) The Cullen Family Crest Tramp Stamp
Uh. You left your heart here? Like, maybe in a nearby crevice?
10) The Cullen Knuckle Tattoo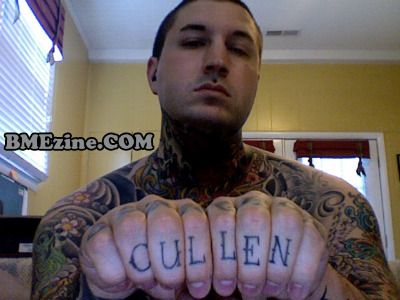 Source: BMEzine.com
Dude, please tell me your name is Cullen.
9) Long Twilight Passage Back Tattoo
Listen, lady, if I wanted to read the book…
No, scratch that. I'll. Never. Want. To. Read. The. Book.
8) The Creepy Edward Cullen Portrait Back Tattoo
"Mommy, why is there an angry European soccer fan on your back?"
7) Jacob Black Quote and Werewolf Claw Marks Tattoo
Two guaranteed ways to alienate men: (1) an unhealthy obsession with Twilight and (2) photo-realistic tattoos of bloody, gaping wounds across your wrists.
6) Twilight Logo Foot Tattoo
That looks inflamed and infected. I think there's a metaphor here.
5) His and Hers Lamb and Lion Tattoos
I think it's sweet that these two souls have bonded over their shared lack of good taste.
4) Twilight Vampire Bite Tattoo
And for the rest of his life, anyone who saw his wrist wondered if he had rabies.
3) The Edward Cullen(ish) Arm Tattoo


Source: The Internets
Edward Cullen… or one of the Hardy Boys? We'd never know if not for that trademark Twilight apple and quote.
What we do know is that he attended the There's Something About Mary school of hair design. (Pointy! And full of protein!)
2) Twilight Mom's Back Tattoo (Peekaboo!)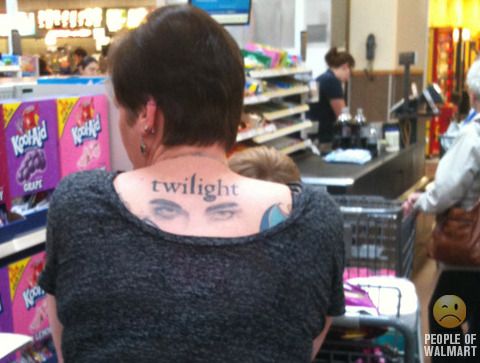 Source: PeopleofWalmart.com
Oh, you think that's bad?
Check this out…
1) Terrible Twilight Cast Back Tattoo
I had thought that every horrible thing that could be said about Twilight moms has already been said. But this picture was indeed worth another 1,000 words. Of horror. In my head.
Find Twilight t-shirts on Ebay