Jude Buffum just cross-stitched her way into my heart, pitting Rainbow Brite against Strawberry Shortcake and Teddy Ruxpin against a Care Bear–all Mortal Kombat-style–in her latest pieces.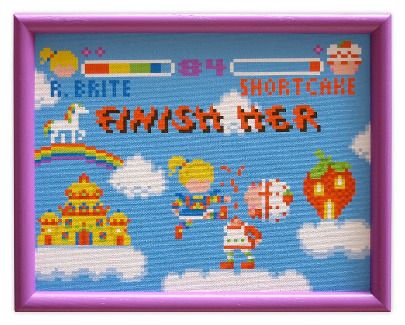 I discovered that many of the more feminine and cutesy characters were originally created by greeting card companies… For example, Rainbow Brite was created by Hallmark and Strawberry Shortcake was created by American Greetings. I found this amusing that they were essentially greeting card corporate adversaries, so it was only natural to pit them against one another
I get how Rainbow Brite takes Strawberry Shortcake in a fight*… but a Care Bear taking out Teddy Ruxpin?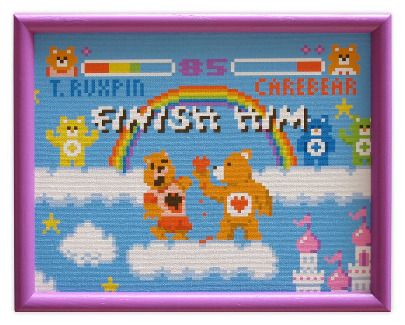 No. You do not rip out the heart of a cyborg bear. The cyborg bear rips the heart out of YOU.
* Um, rainbow powers, anyone?
Find hilarious Care Bears costumes on Ebay