« Inspired Ideas of the Day: "Rainbow Bloodbath" and "Care Bear Carnage" | Main | Bringing the Fun back to Cannibalism: Chocolate Skull Cake [Geeky Cake] »
By Great White Snark | July 1, 2010
Man. The effects of isolating your face from sunlight, fresh air, and proper hygiene for a few years can really have a terrible effect.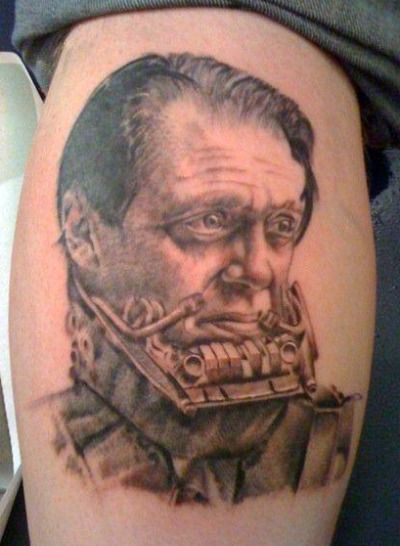 Via Ugliest Tattoos, who get bonus points consistently being literal.
Find Darth Vader voice-changing masks on Ebay
You may also like these stories:
Topics: Star Wars, Tattoos | 2 Comments »
Tags: Darth Vader, Geeky Tattoo, Star Wars
2 Responses to "Steve Buscemi as Darth Vader Tattoo [Geeky Tattoo]"
Obi-Wandreas Says:
July 1st, 2010 at 7:01 pm

If Steve Buscemi is Darth Vader, then Christopher Walken would have to be Palpatine.

"I kept my lightsaber in the only safe place I could think of…"

Dave3 Says:
July 2nd, 2010 at 8:11 am

The only guy who has any sane reason to get that tattoo is… forget it, there's no sane reason. Steve Buscemi as Unmasked Vader trumps sanity.
Comments