Conan O'Brien doesn't elicit any sort of hero-worship from me. (Read those words again, internets, as they might be difficult for you to understand on the first pass.) The guy got to live his lifelong dream for seven months and got paid ridiculously handsomely for it. Yet he still carries a (bitter, yet somewhat tongue-in-cheek) chip on his shoulder.
Still, he is undeniably hilarious. And nothing can diminish the delightfulness of this animated GIF.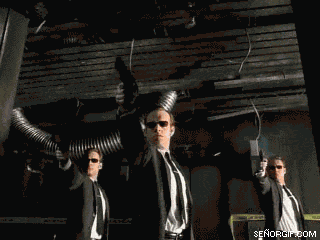 Via Señor Gif, whose delightfulness is diminished in cold water.
Find The Matrix costumes on Ebay