To save you the disappointment that I suffered when I came across this item under a similar title, let's clear a couple things up:
(1) This "X-Men #1 toilet" listed on Ebay never actually belonged to Jim Lee. (Whuuut? I know, right?)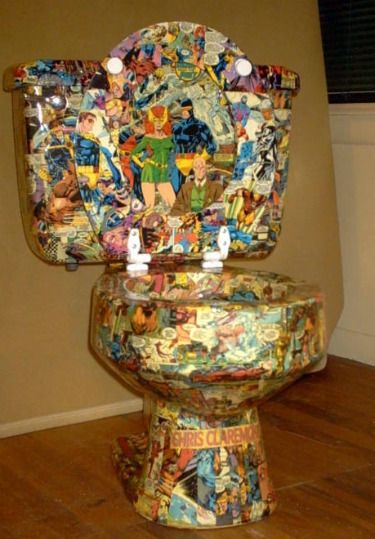 Rather, it's a toilet bespackled* with pages from copies of the Jim Lee-penciled X-Men #1, which all of my over-exuberant comic-coveting brethren from 1991 will remember fondly-ish. (Thanks, Era that Introduced Ridiculous Numbers of Variant Covers!)
The number one selling comic book of all time, X-Men #1 (1991), sold over 7 MILLION copies. It was released with 4 variant covers and a "deluxe" edition with a gatefold cover and glossy pages.
One of each of the variants along with a deluxe, gave their useless lives to decorate this '70s era Standard American toilet.The issues were carefully deconstructed, panel by panel, cover by cover using scissors and X-Acto blades.  Hundreds of separate images were glued to every square inch (other than water holes) of the bowl, tank, seat, and lids. …  The whole process took upwards of 80 hours and a full pint of polyurethane.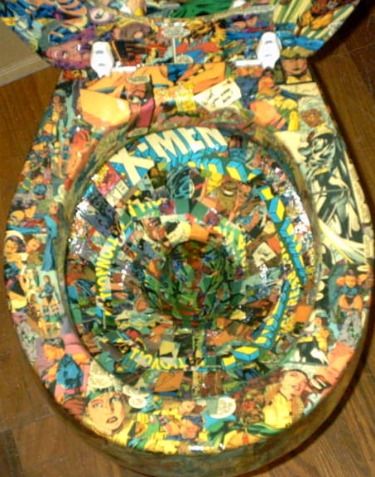 And (2), as indicated by the Ebay listing, you should not actually use this "toilet" as a bio-waste-disposal apparatus. You know… just in case you were shopping for an artsy toilet upgrade on Ebay.
A disclaimer: I CAN NOT guarantee the efficacy of this art piece if it were to be installed as a working toilet.
Via Bleeding Cool by way of Nerdcore, who's afraid to use this thing sitting down, lest he touch Rouge's bake skin.
* Yep.
Find Mad Magazine comic toilet paper on Ebay