The rocket-propelled chainsaw launcher. Which seems like a terribly logical way to avoid second-hand smoke if you're ever hunting a zombie Audrey Hepburn.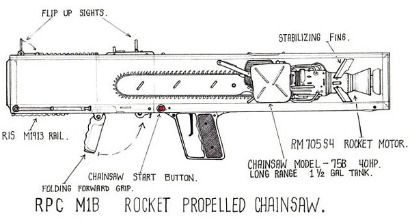 (Please, oh, please let there be an angry nerd who comments on this post to explain why this could never work.)
Via technabob, knows why this could never work. And it starts with there being no such thing as a "rocket motor".
Find the Dismember-Me Plush Zombie on ThinkGeek