More costumes from the first day of San Diego Comic-Con 2010.
Poison Ivy costume. I love that I caught that guy halfway into a not-subtle double-take.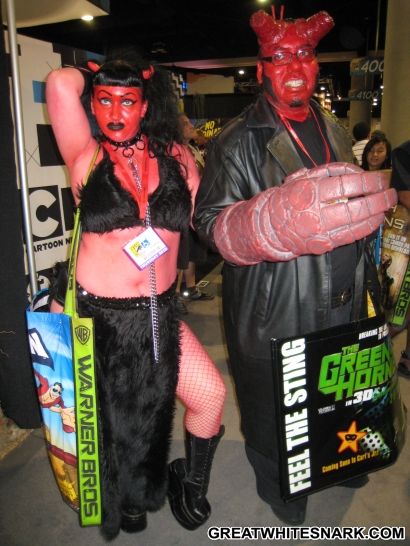 Costumes of Hellboy and… lady friend? Either way, please make it stop.
Wait. Ren Faire bullshit? How'd that get in here?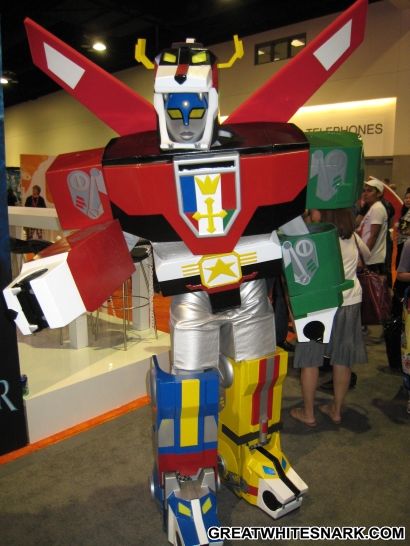 Voltron costume. With 1,237 points of articulation.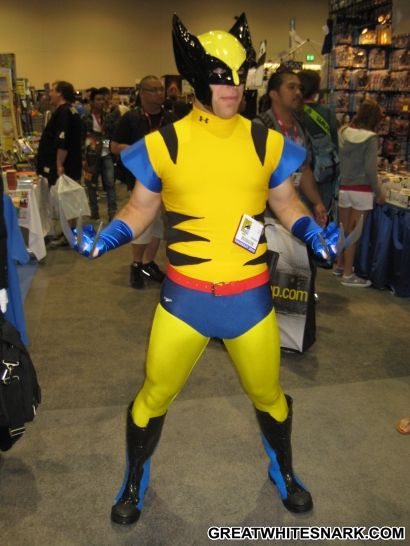 Hey, what's up. I'm Wolverine or whatever.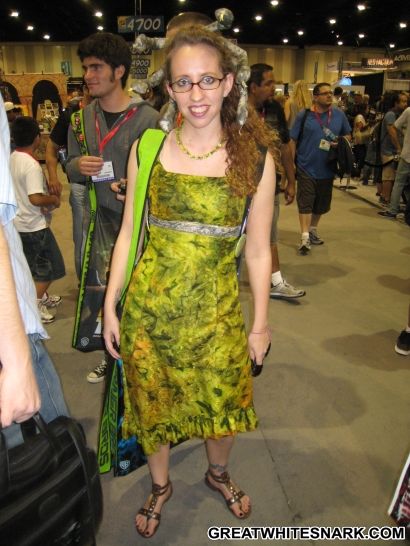 Medusa costume. She's not trying to turn you to stone; I think she's in the process of forming a smile.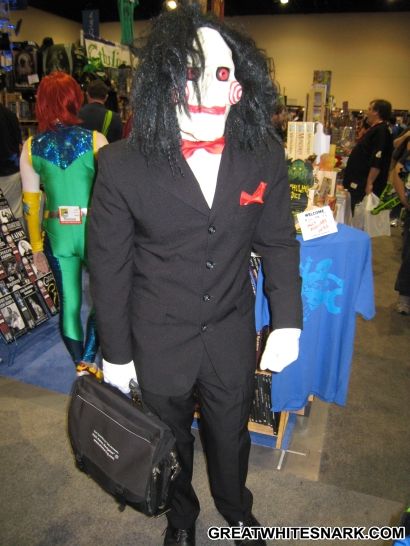 Jigsaw costume from Saw. NOW IN 3D.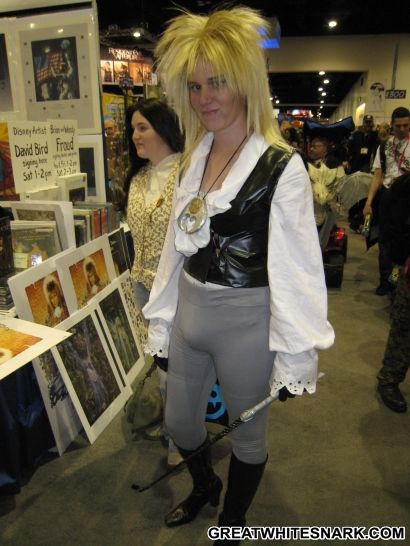 Goblin King costume from Labyrinth. Wow, "Mr." Bowie wanted to make damn certain that we didn't miss that bulge, eh?
Wonder Woman, Poison Ivy, and Ms. Marvel costumes. Not getting a big "geek" vibe, here. I wonder if they trotted their cleavage out to Comic-Con this weekend as some sort of charity work.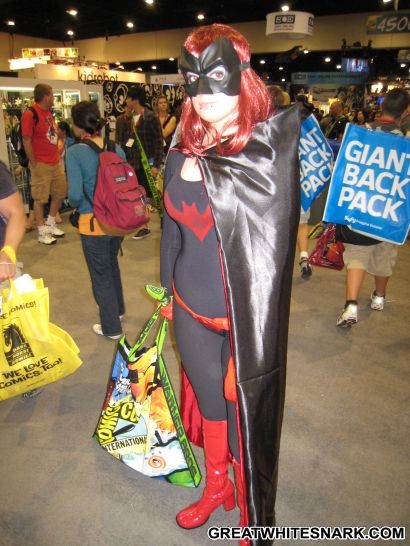 Batwoman costume. Not a reflection on this young lady, but it wouldn't kill some of you other spandexed nerds to cover up your business with a cape.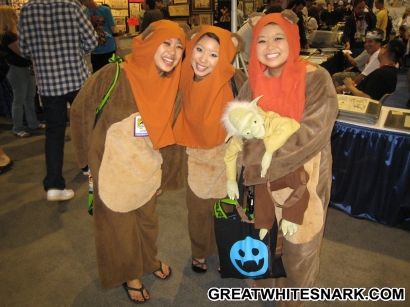 Ewok costumes. I like it when people choose size-appropriate costumes.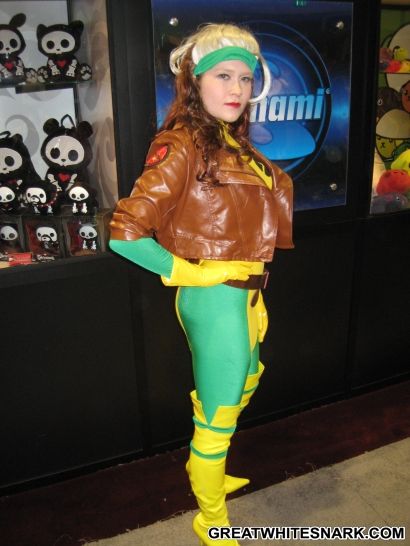 Rogue costume. Hey, way to have a perfectly good costume and not be particularly noteworthy in a way that would draw quips, lady.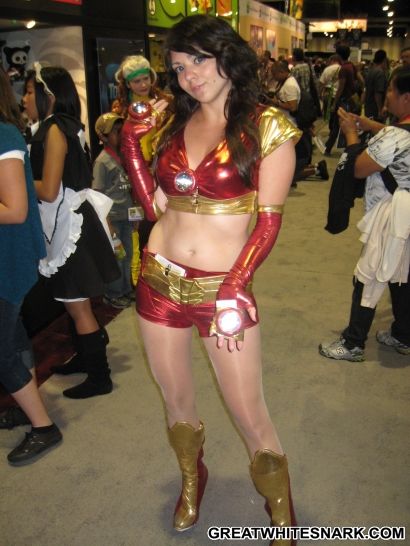 Ironette costume. Iron Man crossplay. Yes, thanks.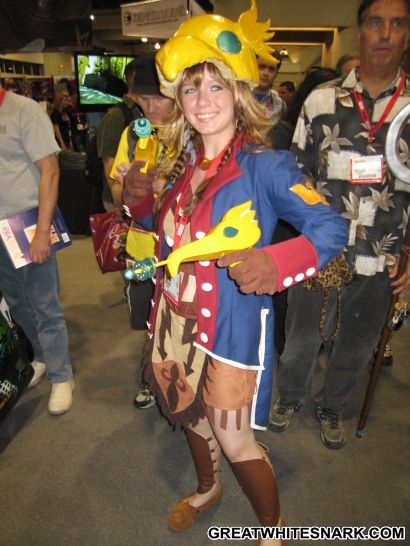 An "original creation." Goes by the name of National Eagle. Or Patriot Eagle. Mustard Eagle. Something like that. Definitely has "eagle" in the name. Anyway.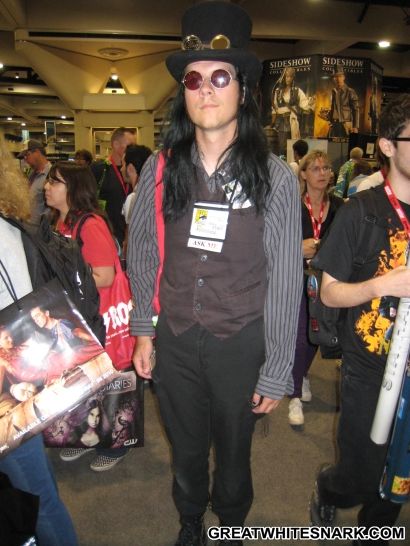 You know, I seriously can't tell if some of these people are wearing a costume or not. Yet, they let me take their picture.
Leprechaun costume. Or, as I called out to him: "Hey, giant Leprachaun, can I get a picture?"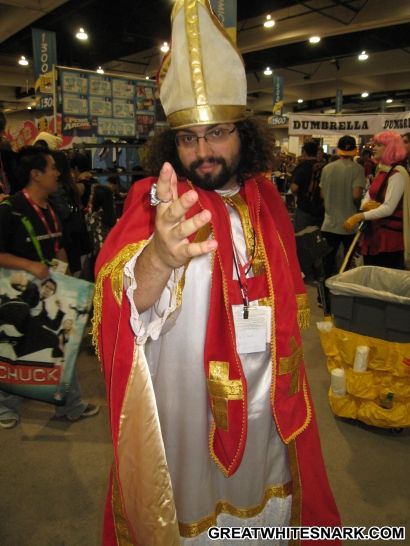 The Pope.
Lara Croft costume. She's on her latest adventure, "Tomb Raider: Mystery of the Missing Calories."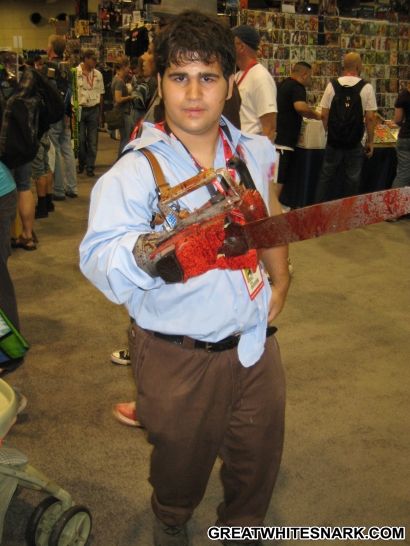 Evil Dead Ash costume. Or as I called out to him: "Hey, mini-Bruce Campbell!" Nerd cosplayers are so patient.