The second set of costumes from Day 2 of San Diego Comic-Con 2010.
Mad Eye Moody costume. Extra points for authenticity. Points deducted for authentically creeping me out.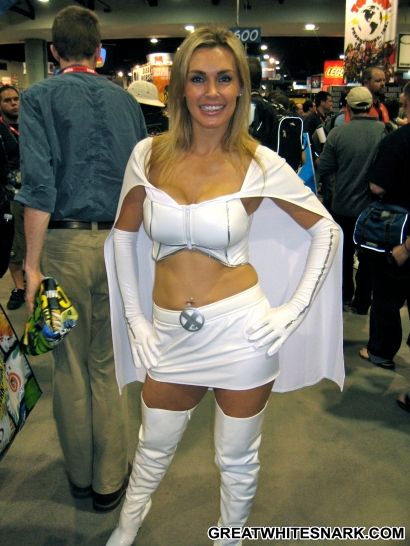 Emma Frost / White Queen costume. Quite admirable: she's not just sexy, she's also a conservationist. Hardly any cows at all had to die to provide the leather for her skimpy costume.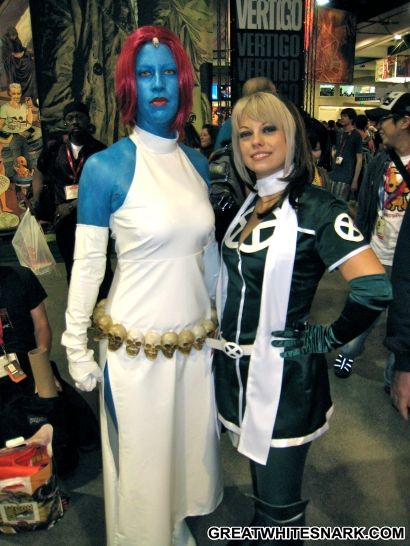 Mystique and Rogue costumes. I think somebody was just looking for a good excuse to wear her skull belt.
Punisher costume and… Jean Grey, maybe? I don't know. Someone will certainly yell at me in the comments if I'm wrong.
Witch costume. A tall, attractive woman covering herself up in layers? You don't see that every day at Comic-Con. Or life.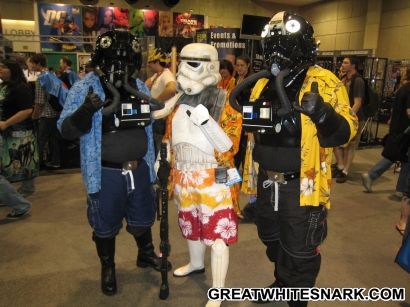 Hawaiian Stormtroopers. Yawn town.
Lunch Lady Leia. (Note the hair nets.)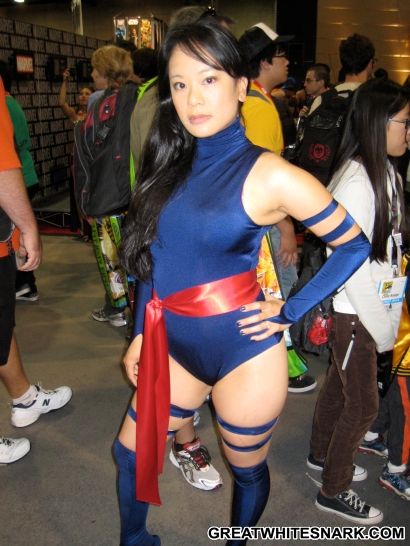 Psyloche costume. Let my poor camera work be noted, here; she is not actually 80% torso and 20% legs.
Cross-race-play Storm costume.
Indiana Jones costume. And his Asian lady doppelganger. (Everyone has one. It's science.)
Justice League costumes. And you couldn't use your power ring to whip up a garter or something? With tight spandex comes great responsibility, sir.
Dr. Horrible and crossplay Captain Hammer costume. It's gonna be tough to pull off the, "The hammer is my penis" line.
Black Widow costume and… friend? I suspect this "costume" was formulated based on having (1) a green wig and (2) a desire to show some skin. Which, you know… I applaud.
Oompa Loompa costume. To me, this requires more bravery than donning spandex. And she pulls it off like a champ.
Batman and Wonder Woman costumes. C- for execution, A+ for attitude. And adorableness.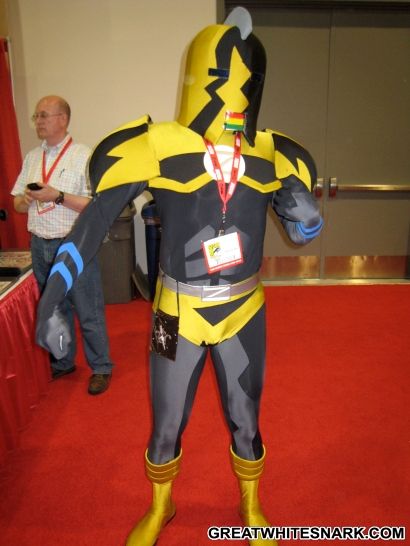 And this is…?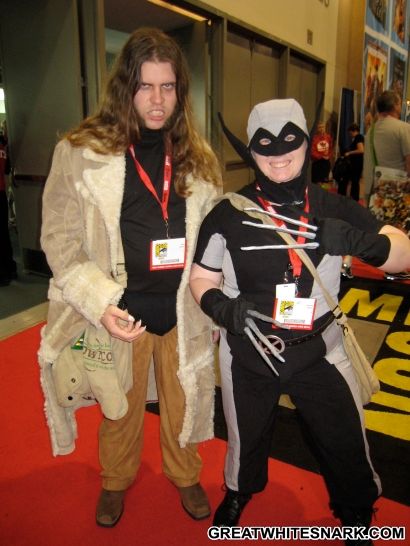 Sabertooth and Daken(?) costumes. Although, I believe Daken only has two claws per hand. (And you should definitely imagine me saying that last bit with a haughty lisp, a la Comic Book Guy.)