There's only one set of photos of costumes from Day 3 of  San Diego Comic-Con 2010. Because by the time the third day of Comic-Con rolls around, 125,000 sweaty nerds have helped me develop a hearty distaste for humanity. The majority of the day ends up spent drinking and mumbling.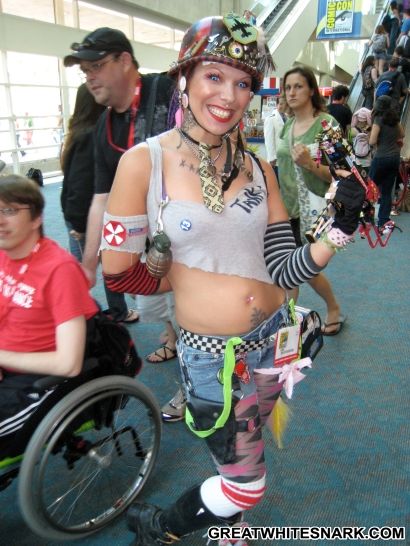 Tank Girl costume. Who also happened to be a performer at Topless Robot's Nerd Burlesque show, and the proud owner of a pair of The Crazy Eyes.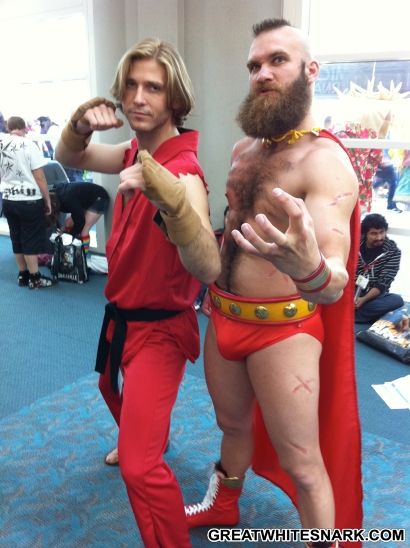 Street Fighter costumes. Pretty sure both the ridiculous hair and the ridiculous bulge are real.

Ok. Let's identify this one together. I'll start. "Rabbit." Ok. Now it's your turn.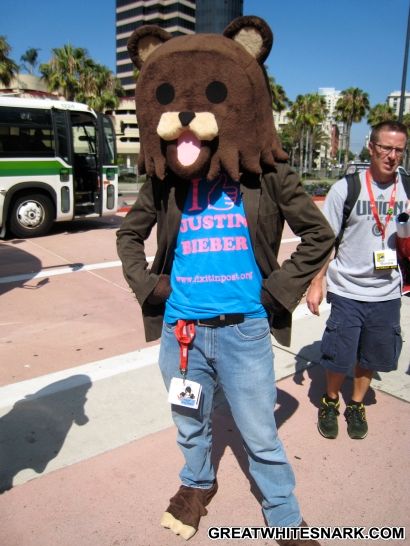 Pedobear costume. In a fit of irony, I touched him inappropriately.

Plants vs. Zombies costumes.

Pretty sure I should know what this is. But I'm certain that I don't care.

Sue Storm costume. Her wig was made from 100% human hair. From 13 different donors.

Me: "What are you supposed to be?" Her: "I don't know." Me: "So, basically, you had a pair of fish net stockings in your closet, and you were like, hey, this is what I'll wear to Comic-Con…?" Her: "Yeah."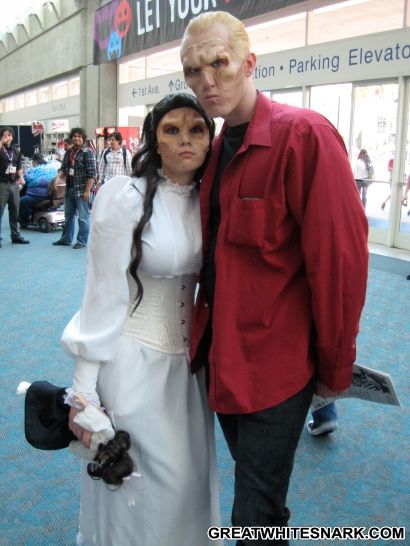 Spike and Drusilla costumes. Excellent costumes, and I tend to treat Whedonites gently, anyway. Sweet, dorky bastards that they are.

Barf costume from Spaceballs.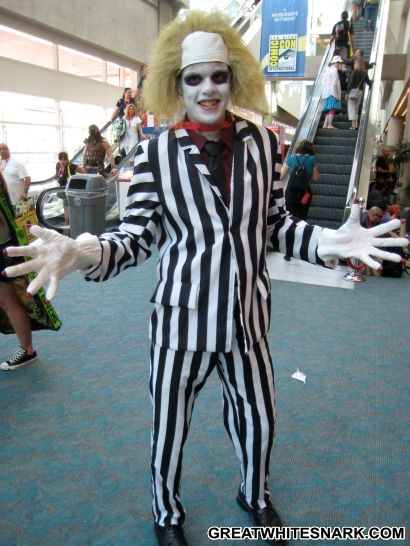 Beetle Juice costume.

"Steampunk" costume. Me: "You need more brass or goggles or something."

Catwoman and Gunslinger costumes.

Crossplay Mad Hatter and Link costumes. Now that I think about it, this is the first time I've seen a dude dress up as Link. And he should consider that perhaps there's a reason for that.

Ultimale costume. Him: "People look at the symbol and see different things." Me: "I see a penis." Him: "Ha. Right."

Crossplay Green Hornet costume. Alternatively: a jacket topper on a leg cake.

Homer Simpson costume.

A Tentacle Rape Fairy Costume. I AM NOT JOKING. She handed me her card. And that's what it said.

Black Cat and Spider-Man costumes. Whew. I haven't seen a costume with cleavage for about five minutes, and I was getting antsy.

Nick Fury costume. Who apparently stole his gun from a 1950s B-movie space man.

Paper bag costumes. Because I'm finishing strong!