There's certainly been no shortage of unfortunate geeky cleavage tattoos profiled on GWS, but leave it to a Star Trek fan and her poor judgment to really, emphatically ruin a perfectly-good pair of boobles. With Spock tattoos, no less.

Hit the jump (or scroll down) for the full, pretty-much-NSFW (but nipple-less) photo featuring tasteful* self-breast-cupping (i.e., hand-bra) action.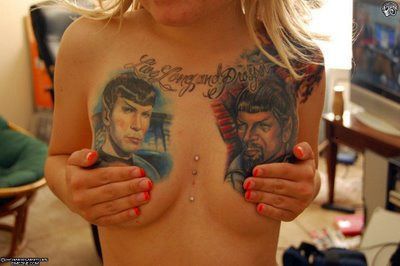 Via Nerdy Girl Love, who thinks if you're trying to ruin a pair of boobs anything less than emphatically, then you're not doing it right.
* Ha, ha. Just kidding. This lady's got Spock plastered all over some of her formerly-best bits. "Tasteful" was left drunk and unconscious behind a deserted gas station out in the desert.
Find Spock costumes and accessories on Ebay