UPDATE: Thanks to writing this post quite late at night after imbibing exactly one beer, I originally labeled this steampunk as "Alice in Wonderland." Which is ridiculous, and a sad, sad reflection on my ability to hold my liquor. What I like is that a couple of you actually assumed not that I was wrong, but that you were missing some overly-clever joke that I was making. Thanks for that. When I'm made President King of Americaland, you get to live.
After a few years of absolute saturation of the internets and conventions with steampunk… I'm a bit jaded. I think it's the bad hair (dudes), monocles (dudes), and ridiculous Victorian accents (ladies, you're the worst offenders) that finally wore me down.*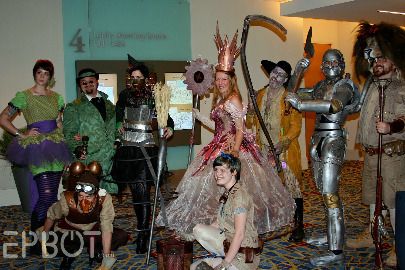 Click to zoom
But I'm always open to appreciating and sharing particularly-inventive projects, and I'd say this steampunk Wizard of Oz cosplay qualifies.
I think it was the flying monkey / rocketeer that sold me.
P.S. Rule of thumb: It's always the flying monkey that sells me.
Via the lovely Jen at EPBOT, who tried to get the Tin Man's codpiece registered as a deadly weapon. (DON'T POINT THAT THING AT ME!)
* Not to worry, though, corsets and cleavage… we'll always be friends.
Find steampunk costumes and accessories on Ebay