Oh, I do so love it when you people are vindictive.
The digital bits of yesterday's post about the pretty-but-lacking-handmade-figures Futurama wedding cake had barely settled on your internets-viewing screens when Caitlin L. dropped me an email to be all, "Well, I had a Futurama wedding cake, too, and its cake topper was 100% handmade with the love and devotion of a true Futurama fan. None of that half-assed plastic cake topper crap that's just so typical of Socialist ne'er-do-wells, or–even worse–Hello Kitty devotees."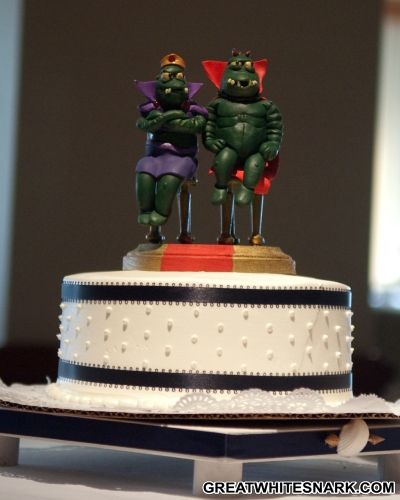 Ok, really what she said was:
From our wedding, we had a handmade cake topper made of the couple after whom we model our marriage. "One of these days, Ndnd, Bang!  Zoom!  Straight to the 3rd Moon of Omicron Persei 8!"
Which, sure… taken at face value, simply seems like some profoundly-nerdy Futurama-worship. But if you squint real hard, raise one eyebrow in a cynical fashion, and read between the lines, the vindictiveness is there. And it's delicious.
Find Kidrobot Futurama figures on Ebay