« That's More Like It: Futurama Wedding Cake Topper | Main | Endorsed by Four out of Five Zombies: Life-Size Gummy Brain »
By Great White Snark | October 7, 2010
Ok, so this Star Wars tattoo isn't a complete mess. I mean, Luke Skywalker looks distinctly more like Dorothy Hamill than Mark Hamill, but otherwise… um, lovely. Ish.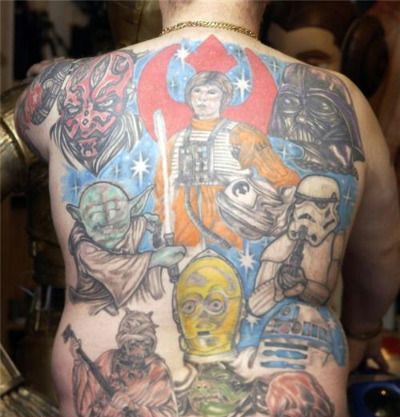 Via Ugliest Tattoos, whose efforts at source attribution aren't so much sloppy as they are nonexistent.
Find vintage Star Wars playsets on Ebay
You may also like these stories:
Topics: Star Wars, Tattoos | 2 Comments »
Tags: Geeky Tattoo, Luke Skywalker, Star Wars, Tattoos
2 Responses to "Sloppy, Much?: Star Wars Back Tattoo [Geeky Tattoo]"
StaceyRad Says:
October 7th, 2010 at 9:21 am

Does Yoda have a lazy eye, or were they going for a Sloth/Yoda mash-up? "Love Luke YodaSloth does."

Great White Snark Says:
October 7th, 2010 at 9:30 am

I knew that version of Yoda looked familiar. Way to put your finger on it.
Comments