Oh, cake purists. You know that thing you do? That thing where you go into withdrawal if you can't regularly wail with indignation about a lack of edible parts on a cake? Well, daddy's* got the cure.
This Lord of the Rings "cake" featuring the Eye of Sauron is actually a sad little bundt cake with a big cardboard-tube tower sticking out of it. With a cupcake on top.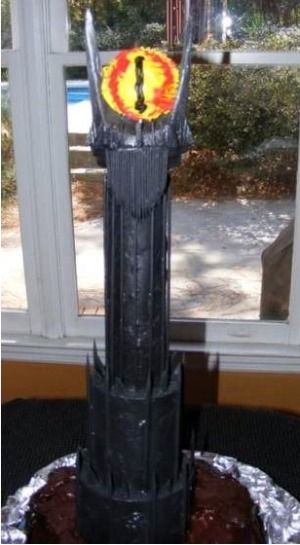 Yeah. Look at all that cardboard. Pretending like it belongs in a cake or something. Stupid, non-edible cardboard.
Feeling indignant, yet? Yeah? You're welcome.
Via Neatorama, who sometimes pretends like he belongs in a cake or something.
* I'M YOUR DADDY.
Find Sauron action figures on Ebay