This gentleman in Lynnwood, Washington (a veritable incubator for criminal masterminds), regularly ducks into a hidden room behind a shelf in a comic book store (for reals) and emerges as spandex- and body-armor-clad "Phoenix Jones."
Much as the protagonist in Kick-Ass did, he roams the streets of his city looking for evildoers to thwart.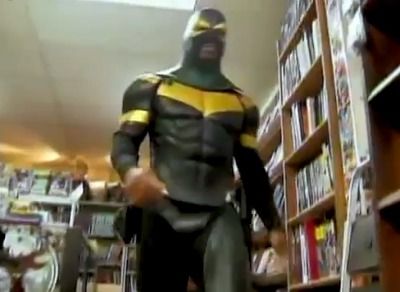 And much as the protagonist in Kick-Ass did, he gets his ass kicked quite a bit:
Phoenix said since he started his crime-fighting crusade nine months ago, he's been stabbed, and had a gun pulled on him a few times, but received no serious injuries.
This can only end badly. But, hey! Look! A cosplayer roaming around outside, with nary a nerd convention in sight!
Via The Daily What, who thinks what this guy is doing is quite noble. In a ridiculous and stupid sort of way.
Find Kick-Ass costumes on Ebay