« That's Something, I Guess: Huge Star Wars Back Tattoo [Geeky Tattoo] | Main | The Lameness Keeps You Warm: Twilight Apple Mittens »
By Great White Snark | January 14, 2011
If you're concerned with demons invading your home, I suppose you could cast a spell of protection. (That's what they'd do on Buffy, right?) Or, you could be like Melita Curphy and splay a dead demon pelt across the floor of your front hall. I think that'd send a pretty clear message.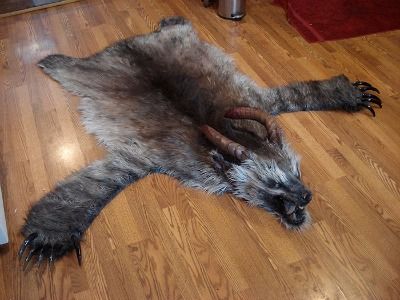 Face/ears/claws/teeth/horns are all hand sculpted and hand painted, head base is a foam taxidermy form.
Via Super Punch, who's interpreting the message as, "This is the home of someone who has a lot of World of Warcraft figurines in fancy display cases in the library. And swords. Lots of swords."
Find demon costumes on Ebay
You may also like these stories:
Topics: Crafts and Hacks | 1 Comment »
Tags: Crafts and Hacks
One Response to "His Name Was Clarence: Demon Pelt Rug"
Ben Says:
January 14th, 2011 at 12:06 pm

Actually, she's a brilliantly talent artist, costume designer, and all around bad ass. Miss Monster Mel to most, and you should click the link that takes you to missmonster.com and check her out.
Comments