« Or Maybe a NASCAR Fan?: Back to the Future Tattoo [Geeky Tattoo] | Main | Cooler Than You Are: Kid's Dark Helmet Costume [Cosplay] »
By Great White Snark | January 27, 2011
You know I'm not prone to vociferous adoration characterized by the OMG LULZ LOVE IT WANT! noise that plagues our internet tubules, so you know that when I call this cake, "Awesome," it's because that's what cake artisan Barbara Garrard damn well named it.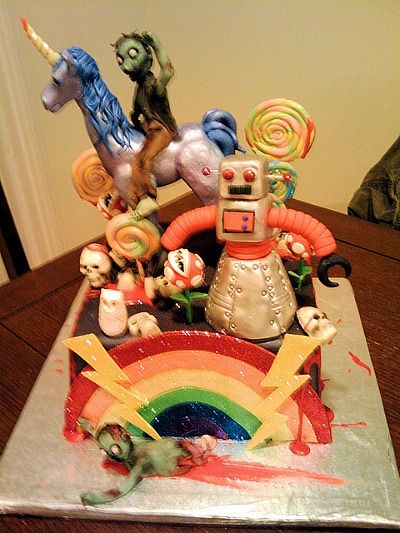 Because "awesome" is apparently what you find at the intersection of zombies, unicorns, robots, rainbows, and piranha plants from Super Mario Bros.
Via Super Punch, who knows that "bawl-some" is what you find at the intersection of rainbows and dead unicorns.
Find the Dismember-Me Plush Zombie on ThinkGeek
You may also like these stories:
Topics: Cakes, Zombies | 1 Comment »
Tags: Cakes, Geeky Cake, unicorn, Zombies
One Response to "Let's Call It What It Is: The Awesome Cake [Geeky Cake]"
Gretchen Says:
February 10th, 2011 at 9:07 am

Awesome is indeed the best description of this cake. Is it wrong to want this as a wedding cake?
Comments