« Because, Sure, Why Not?: Giant Pac-Man Sculpture Made of Cans | Main | The Top Eight Awful Batman Symbol Tattoos »
By Great White Snark | January 31, 2011
I'm traveling for work, so expect slower posting over the next week.
And by "slower," I mean, "possibly nonexistent."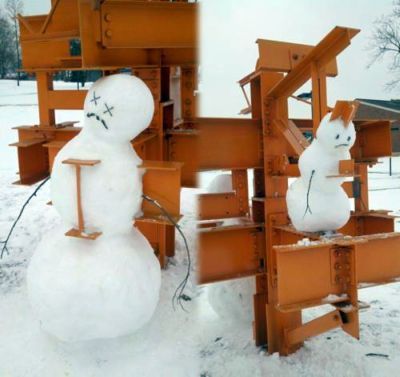 But, look! Here's a picture of Calvin and Hobbes-inspired snowmen impaled on the Ellifrett Structure at the University of Wyoming. Now your simple mind has been distracted from its previously-distraught state by an object of delight. Too easy.
Anyway. Keep an eye on the GWS Twitter profile or GWS Facebook Page, as I'll be more likely to post there in short bursts during my travels.
You may also like these stories:
Topics: Updates | 6 Comments »
Tags: Calvin and Hobbes, Updates
6 Responses to "Don't… Don't You Want Me: Slow Posting for the Next Week"
Comments