While there are certainly a frightening amount of fanboys who have permanently scarred their chests with Batman symbol tattoos, you'd be surprised how people can embarrass themselves with Batman symbol tattoos on other parts of their bodies.
Or maybe you wouldn't be surprised. I hear cynicism is contagious, and I've been drinking out of your mug when you weren't looking.
8) The These-Are-Definitely-Not-Batman's-Pecs Batman Symbol Chest Tattoo
"Bird-chested" and "Batman" aren't typically two things that go together.
7) The "I Am Batman" Hand Tattoo
I am… losing any chance of respect from future employers, in-laws, and grandchildren.
…going to regret this.
…not at all Batman.
6) The Batpug Tattoo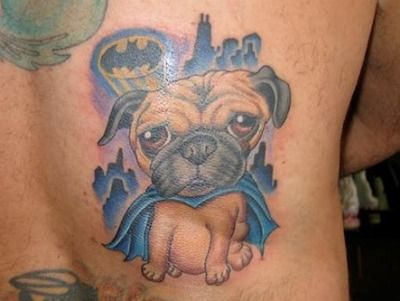 Source: UgliestTattoos.com
Nana nana nana nana nana nana nana nana BATPUUUUUUG!
…is sad that you treat your back like a laboratory of permanent ink.
5) The Hairy, Dripping Batman Symbol Tattoo
Well, there's good news:
Thanks to poor placement (i.e., anywhere on the body of a Sasquatch), this Batman symbol tattoo will soon be so-overgrown with distractingly-thick-and-curly hair that it won't occur to anyone to think that the "dripping" effect was a terrible, terrible idea.
4) The Sad Little Asymmetrical Batman Symbol Back Tattoo
"I couldn't decide between making my Batman tattoo too small, too lopsided, or too boring, so I went with all three. And then put it in a really conspicuous place in the middle of my back. … Now where's that trophy for winning at life that you promised me?"
3) The Tribal Batman Symbol Tramp Stamp
Hey, maybe you can make your Batman symbol tramp stamp even more tribal next time… because this time, you stopped just short of a white-trash explosion, and that's something we all need to see. For science!
(Sorry, I realize "tramp stamp" is kind of offensive. What I meant was, "mark of the ho.")
2) The S&M Batman Symbol Chest Tattoo
One of the best-executed Batman symbol tattoos on the list is also one of the most difficult to behold.
Unless you're into this kind of thing. In which case, I don't judge… but mostly because I don't want you to whip me with your leather switch.
1) The Gotham City Bats Tattoo
So lifelike and horrifying that I think I just caught rabies from looking at it.
Find Batman costumes and accessories on Ebay