Apparently putting together a costume made almost entirely of brown fur is more complicated than you'd think.
7) The Hairy-Chested Chewbacca Costume
Many bathmats died to bring us this costume.
6) The Cardboard Chewbacca Costume
So, yes… it's pretty fantastic as far as cardboard costumes go.
But in the meantime: it's still made of cardboard.
5) The 1977 Official Star Wars Chewbacca Costume for Kids
THANKS, 1977!
The only way the design of this Chewbacca costume could have been more lazy is if they plastered recycled artwork of The Wolfman's face across the chest.
4) The Gorilla-Faced Chewbacca Costume
A compelling argument against gene-splicing technology: Gorilla Grodd crossed with a Wookiee. A super-smart gorilla who rips arms off all willy-nilly.
3) The Chewbacca Baby Costume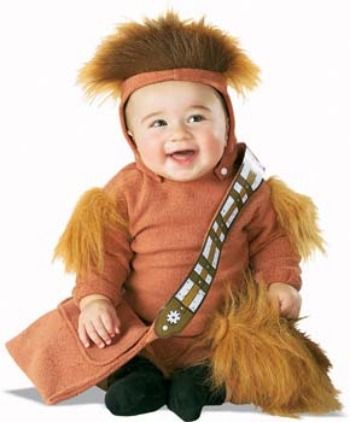 Source: HalloweenCostumes4U.com
Good thing you're not old enough to know better, Baby, because you look like a Fraggle who could easily be mistaken for a feather duster.
2) The "Sexy" Chewbacca Costume
The last three things that should ever be made into "sexy" costumes: (3) Gary Busey. (2) Chewbacca. (1) Herpes.
1) The Grizzly Adams as Chewbacca Costume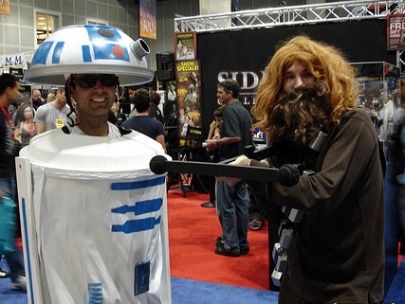 Source: CostumeFail.com
Here's a sentence I'm pretty sure you've never heard before:
Grizzy Adams killed a Wookiee and wore the skin as a suit at Comic-Con.
Find Chewbacca costumes on Ebay