By Great White Snark | January 28, 2011
From What the Cool, about this Pac-Man sculpture made out of cans:
There's an annual event called the Can-struction.  It's a great charity in the form of a can sculpture stacking event where people compete and thousands of people are fed.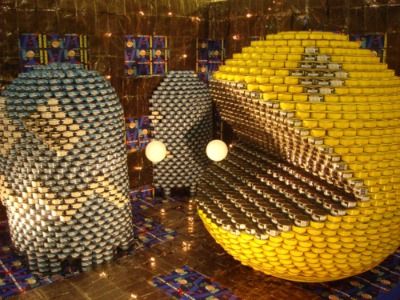 Photo Credit: Matt Boulton
Sure. Sometimes thousands of destitute people are fed at the event. And then other times, thousands of cans of food go into sculptures of cartoon smiley-faces gorging themselves on pellets and frightened can-ghosts.
But I'm sure the starving people respect the importance of the art. Sometimes cans of food have a higher calling, you know?
Find Pac-Man costumes on Ebay
Topics: Crafts and Hacks, Games | No Comments »
By Great White Snark | January 28, 2011
Ewok dog cosplay.
In other news, the number of legitimate reasons to own a small, yappy dog has increased to exactly one.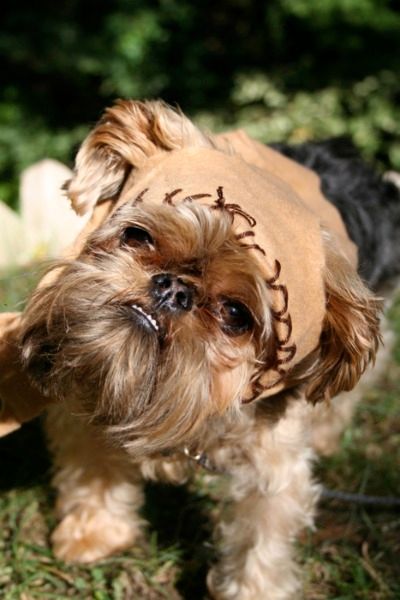 Via ptitumblr, who has never met a small, yappy dog he hasn't yub-nubbed.
Find Star Wars dog costumes on Ebay
Topics: Costumes, Star Wars | 1 Comment »
By Great White Snark | January 28, 2011
Below, you can read the exchange that led to this delightful rendition of "The Imperial March" on dueling pianos by the duo of Greg Anderson and Liz Roe.
Anderson: We need to get more exposure for our act. We should make a viral video.
Roe: Yeah, but we play the piano. No one cares about pianos. I mean, sure, we play our pianos rather vehemently, but… still.
Anderson: What if we played a Star Wars song? The internet gobbles up that kind of sh*t.
Roe: Good point. I'm sure if we post a YouTube video of our playing "The Imperial March," some hapless geek blogger will immediately post it, for fear of someone else posting it first. The rules of blogging can only work in our favor.
Anderson: Indeed. And then some kid on Tumblr will pick it up, and–because it's something quirky having to do with Star Wars–it'll get reposted and reposted like some kind of virtual circle-jerk. We just have to sit back and enjoy the publicity.
Roe: Does everyone know about this formula? 'Cause it seems like more people would be doing it, if it were so obvious.
Anderson: Five words for you: George Lucas lives for royalties.
Roe: Oh, right. Well. He'd never come after a couple of innocent-faced kids like us, would he?
[Lightning strike]
Find vintage Star Wars records on Ebay
Topics: Star Wars, Videos | 2 Comments »
By Great White Snark | January 27, 2011
Say what you will about America's youth, but I haven't given up hope.
Yet.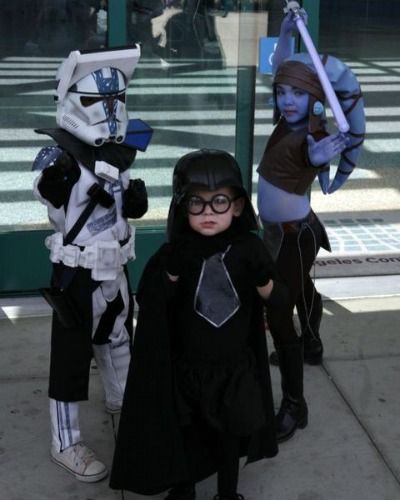 I love that this kid dressed as Dark Helmet from Spaceballs at Star Wars Celebration IV is doing "tongue-in-cheek tribute" before he even knows what "tongue-in-cheek" means.
Via Reddit, who bets he doesn't know what "pocket pool" means, either. Because that's just how Reddit's mind works.
Find Spaceballs t-shirts on Ebay
Topics: Costumes, Star Wars | 1 Comment »
By Great White Snark | January 27, 2011
You know I'm not prone to vociferous adoration characterized by the OMG LULZ LOVE IT WANT! noise that plagues our internet tubules, so you know that when I call this cake, "Awesome," it's because that's what cake artisan Barbara Garrard damn well named it.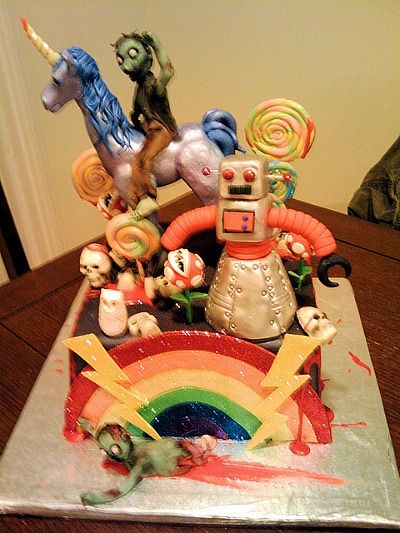 Because "awesome" is apparently what you find at the intersection of zombies, unicorns, robots, rainbows, and piranha plants from Super Mario Bros.
Via Super Punch, who knows that "bawl-some" is what you find at the intersection of rainbows and dead unicorns.
Find the Dismember-Me Plush Zombie on ThinkGeek
Topics: Cakes, Zombies | 1 Comment »
By Great White Snark | January 27, 2011
Well, I presume this "88 MPH" tattoo means that this gentleman is a fan of Back to the Future.
But of course I imagine it could also be the speed his daddy was going when he hit the wall at Daytona. From what I've heard, rednecks like to memorialize these things with tattoos. And beer. Lots of beer.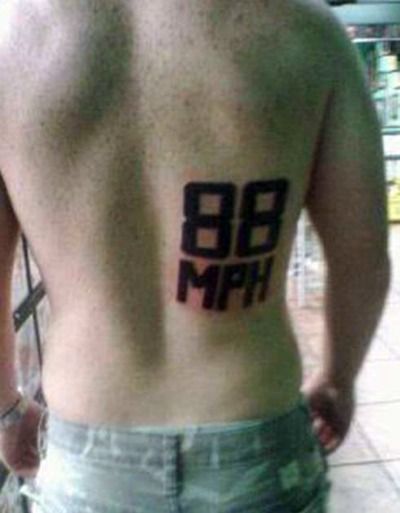 Via Whitney Matheson, who doesn't think it's cool to generalize about NASCAR fans. Unless we're making jokes about illiteracy. In which case, it's all good.
Find Deloreans on Ebay
Topics: Tattoos | 2 Comments »
« Previous Entries
Next Entries »