Please welcome Dora from Singapore into the vaunted GWS Hall of Cake Artisans Who Make Their Cakes 100% Edible.
She created the Optimus Prime cake out of double chocolate Victorian sponge, soaked in vanilla syrup and layered with chocolate ganache. And she used sugarpaste to craft all those ridiculously-detailed parts that you can see in the pictures.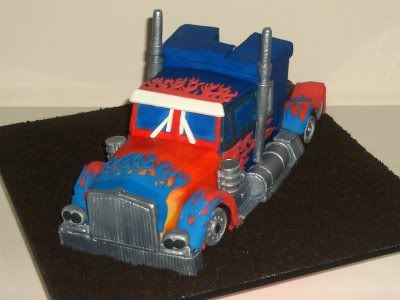 Did I say "detailed"?
It took more than 2 weeks to search the net for details, get measurements right so that the sugarpaste parts will fit on final assembly, hand molding the parts, painting and also cutting the flame designs on the prime mover… right down to the tyres,
which came complete with treads.
Yeah. That's dedication, people. As in: holy shit that's a lot of effort for one cake.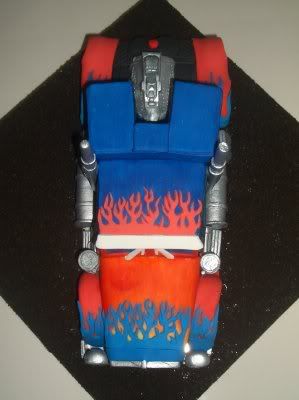 Dora helped surprise one of her daughter's ad agency colleagues–an adult collector of Transformers–with the cake for his birthday.
If someone surprised me with an amazing cake like this for my birthday, I might vomit all over myself in astonishment. Also, you know, from choking on all of the mouth-watering-induced saliva.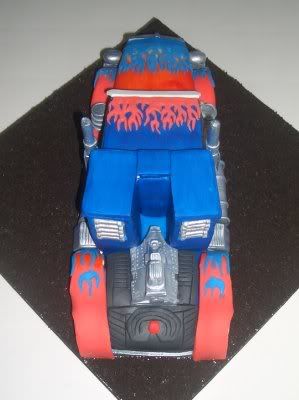 Dora works full time on non-cake-related matters, and "love[s] to decorate cakes for relatives and friends over the weekends or evenings." The extent and craftsmanship of her cake portfolio (which you can check out on her blog) are mind-bending, considering she only does this as a part-time gig.
Enjoy this post? Subscribe to Great White Snark by email or by RSS.