Did you know that space shuttle Endeavor made a record-setting trip to the International Space Station last month? Yeah, well… it did. Perhaps you'd be more aware of these things if you weren't so busy planning the perfect Rick Roll for April Fools Day.
This week's shout-out to the awesomest spaceship on earth comes courtesy of cake artisan Don Buciak II of the Holiday Market Bakery in Canton, Michigan.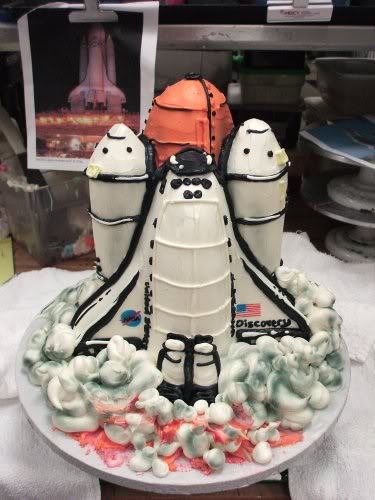 What you're seeing is a straight-up chocolate cake topped, filled, slathered, and adorned with buttercream icing.
That's a lot of buttercream icing. Because obviously there's a mom out there who was more than happy to see her little birthday boy do a sugar-fueled, bouncing-off-of-the-walls impression of a space shuttle for three hours. Vroom-vroom, buddy!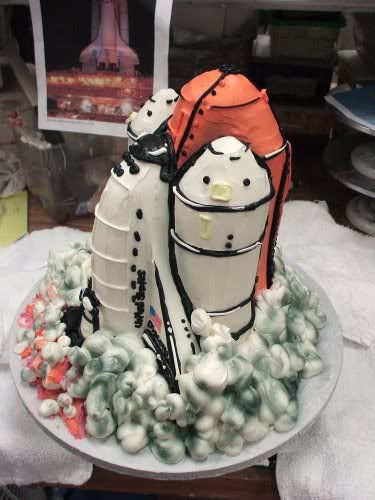 Don walks us through the construction:
…the one picture really shows how it was setup, how the cakes were stacked, then carved. i think inside that i only used maybe a couple plastic dowel rods for support, and the final product u can see the smoke all around, that too, doubled as support to hold up the shuttle and boosters etc.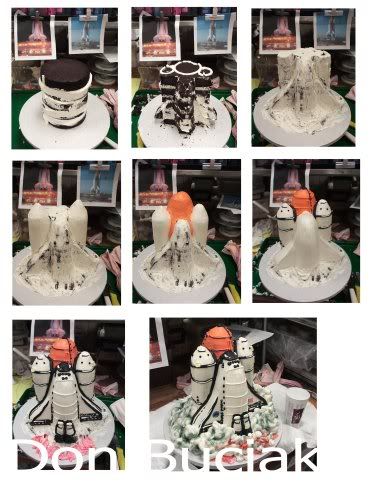 Click the photo for a higher-rez version.
Thanks to Don for sharing! You can check out more of the Holiday Market's 3D cake designs in their Flickr group.
Oh, and by the way… the space shuttle Discovery next launches on May 31. It's called "the news," people. Look into it.
Enjoy this post? Subscribe to Great White Snark by email or by RSS.