Check out the great time I had tonight at the Comics 4 Comix event hosted by GWS contributer Michael Capozzola at the Cartoon Art Museum in downtown San Francisco: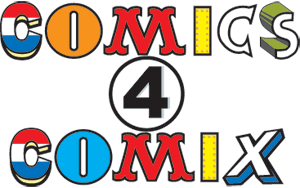 5) Comedian Mark Silverman
Mark writes and performs catchy songs on his guitar about things like retards and huge cocks.
Yeah. It's just as offensive as it sounds. In a hilariously awesome way.
Enjoy one of his more, erm, romantic songs:

RSS and e-mail subscribers, visit the post to view the video.
4) Comedian Michael Meehan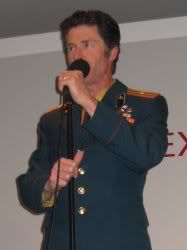 Everyone knows the golden rule of comedy: monkeys make everything funnier. (Just ask Clint Eastwood circa Every Which Way but Loose.)
But I had no idea of the comedic power of a dude faking a Russian accent in full military garb. I couldn't get him to break character even when I was asking for his business card.
3) Free He'brew Beer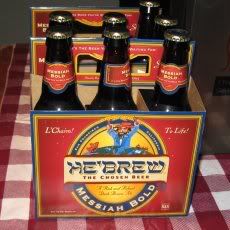 The Chosen Brew.
2) Best. Coffee table book. Ever.
Discovered in the gift shop: Clean Cartoonists' Dirty Drawings.
A collection of risque drawings, cartoons, and sketches by cartoonists you otherwise only know as squeaky-clean. See that lesbionically-charged cover art? That's from Joe Shuster, the guy who co-created Superman back in the 1930s!
Plus, I know you want to see the "blue" material from Chuck "Bugs Bunny" Jones. You know that guy was two hits of LSD away from a career in Japanese manga porn.
1) The collection of original prints and animation cells in the museum.
Quality geekery, yo. Iconic animation cells from The Smurfs, The Simpsons, The Flintstones (1961), Pinocchio (1940), and Snow White (1937)… plus lots more. Historical treasures like original prints from Winsor McCay's Gertie the Dinosaur and Will Eisner's The Spirit. Cartoon panels from the distinctive voices of featured local, contemporary artists. And plenty more.
In fact, if you're ever in San Francisco and looking for a painless way to impress a date with your well-cultivated "culture," visit the Cartoon Art Museum. It's basically a fancy art gallery filled with tons of stuff that you geeks would actually enjoy browsing.
(The advice is free, people. All I ask for in return is a special place in your prayers. And by "prayers," I mean "checkbooks." Pay me. Please.)
If you enjoyed this post, consider subscribing to Great White Snark by email or by RSS. It's free!