There's only one way to describe the situation when two movies released in the same year (1998) feature a "Texas-sized" space rock threatening to create a doomsday event upon collision with the Earth:
Pure, unadulterated coincidence.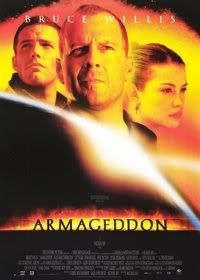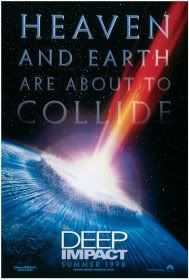 Point: Michael Bay could suck the emotional resonance out of a live, actual childbirth.
Never would I have suspected that the impending whithering and demise of mankind could mean so very, very little. I've had hangnails give me more cause for concern.
ADVANTAGE: Deep Impact
Point: The soundtrack to the end of the world would never be performed by Aerosmith.
Guns 'n Roses… maybe. But not the guys who brought us "Love in an Elevator" and "Walk This Way."
ADVANTAGE: Deep Impact
Point: Tea Leoni gets eaten by a tidal wave in Deep Impact. Everyone knows that the token hot chick always gets to live.
…no matter how much I might wish death upon all of the characters in Armageddon–including Liv Tyler's–for abusing my senses with their one-dimensional, Cheez Whiz-laden triteness.
ADVANTAGE: Armageddon
Point: Morgan Freeman was born to play the President in Deep Impact.
Stanley Anderson, on the other hand, with credits including Robocop 3 and ten episodes on The Drew Carey Show, was entirely miscast as the President in Armageddon, when he clearly should have been playing the role of Space Shuttle Technician #2.
ADVANTAGE: Deep Impact
Point: In Armageddon, Bruce Willis sacrifices himself so that Ben Affleck can return safely to the passionate embrace of Liv Tyler, back on Earth.
You can find that in the dictionary under "Gross Miscarriages of Justice." It's the second example right after "ex-stripper and current trash-bomb Tila Tequila has her own television series on MTV."
ADVANTAGE: Deep Impact
WINNER: Deep Impact
If you had any doubt, then your name is probably Michael Bay's Mom.
Did I miss any points?
Enjoy this post? Subscribe to Great White Snark by – or by RSS.