When I began soliciting geeky tattoos from my readers, little did I know that I'd get e-mails from half(?)-naked dudes taking poorly-lit pictures of themselves in mirrors.
What do I look like? Craigslist?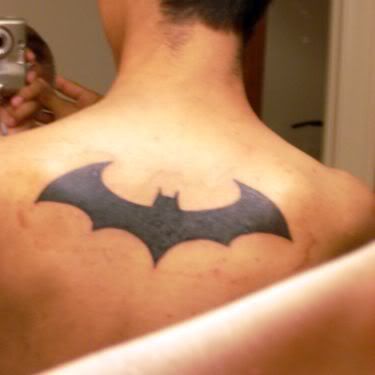 Anyway, I shan't complain, because first, I sort of asked for it, and second, it's my own fault for not starting a blog about nude swimsuit models with birthmarks shaped like Star Wars characters.
And I'm still kicking myself over that one.
GWS reader Josh provides the details on his Batman symbol back tattoo. (Note that he's courteously done away with capitalization and punctuation in the interest of providing you with an unadulterated stream of information.)
it took only an hour and a half to do and i dont think its insane…just pretty damn painful[.] but the guy (jason from soild image tattoo) kept messing up like when he was drawing it so that was an extra hour…which took longer than expected
The guy messed up a Batman symbol? Yikes. I'd hate to see what he'd do with a complicated tattoo. You know… one with more than one color and an image you couldn't just trace from a fuggin' comic book.
Do you have a geeky tattoo you'd like to show off? Contact me with a photo and description, and I'll profile it in a post on this here blog. And I'll even be gentle about it.
Enjoy this post? Subscribe to Great White Snark by – or by RSS.