This is globalization in action, people. Faced with a glut of strange fetishes and a shortage of loopy natives, Japan has obviously started exporting its Batshit-CrazyTM to the Philippines.
The Philippines, where Tiger and Issa got married this past December in a Star Wars ceremony set to Ludicrous Speed.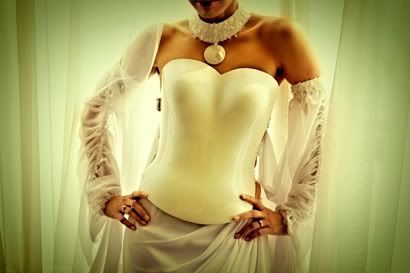 First, there's the wedding gown. Which featured a bodice inspired by (1) Stormtrooper armor and (2) the wet dreams of 13-year-old boys everywhere.
And then: a Vegas-style stage show for the guests.  With Stormtrooper back-up dancers.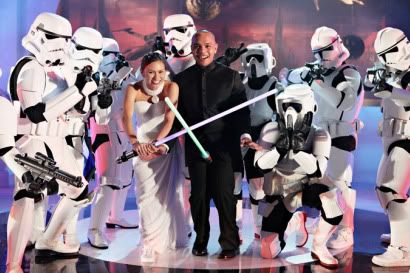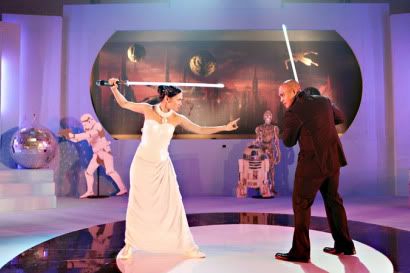 Yeah, I bet Issa thought that dedicating her wedding 100% to the Star Wars theme was a great idea… until the wedding night.  Your husband–wearing nothing but his socks–yelling, "Stay on target! Stay on target!" …not sexy.
(Which has been explained to me. Several times.)
Check out the full wedding gallery on the Pat Dy Photography blog to grasp the true scope of this Star Wars-inspired insanity.
Thanks to Rock 'n Roll Bride.
Enjoy this post? Subscribe to Great White Snark by – or by RSS.