Marie of Celebration Generation Cakes ("Absolutely Hardcore Sugar Art." Heh.) of Plymouth, Minnesota spent years as a fashion designer, graphic artist, and floral designer, shoring up her artistry as a cake-maker.
Imagine the personal satisfaction she must feel, knowing that her ninja-master-level cakery expertise has culminated in a World of Warcraft groom's cake in the likeness of a level 80 gnome mage named… wait for it…
Foopmallet.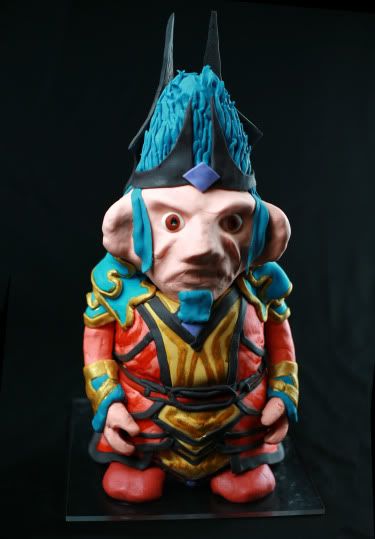 As Marie explained in a recent electronic letter to me:
Had another geeky wedding this past weekend.  The main wedding cake was an awesome hippie thing – it looked like and acid trip in sugar.

More importantly, though.. the groom's cake was a 3D sculpted replica of his World of Warcraft character, Foopmallet.

Best of all was the flavor – it was RED BULL cake! All of his buddies and him are addicts, so it was the perfect flavor for them – and it really worked well!
Even the newlywed bride chimed in:
Kirk loved his Foopmallet cake and all of his friends were super jealous of it.
Very clever, Ms. Bride. I see what you did there. Lured your husband-to-be and all of his hardcore WoW-gamer friends away from the comforting glow of the screens in their man-caves with promises of sugar, Red Bull (their gaming elixir of choice), and an epic WoW-tribute that they'll be chatting about for ages on the guild message boards.  Kirk is sure to be King Nerd on the Blizzard servers for weeks to come.
Now you just have to continuously top your own cleverness for the next fifty years or so if you ever hope to see your husband away from his computer monitor ever again.  Such is marrying a World of Warcraft addict.
Best of luck to you.  I recommend investing in self-service "marital aids" and locating a doctor with liberal benzodiazepine-prescribing policies.
Enjoy this post? Subscribe to Great White Snark by – or by RSS.