Exhibit A: One amazing red velvet Nightmare Before Christmas wedding cake.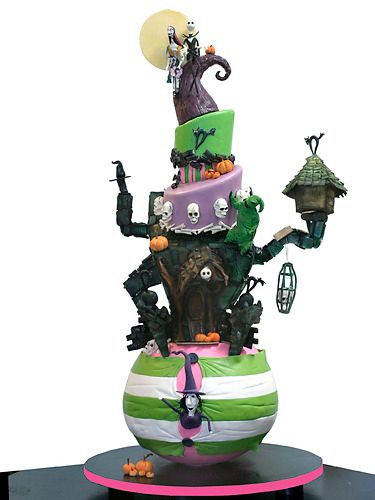 There's no Exhibit B. But I like to think that someday an uncanny–yet completely coincidental–likeness of one of these posts will appear as a piece of evidence on Law & Order.
Anyway. Cake….
According to one of the attendees at the wedding:
this is the cake that was at my cousins wedding i went to in California. it was such an awesome cake. it was really tall and i heard it cost $8,000.
Well, that clears up a few things. One: it was such an awesome cake. Two: the cake was tall. Three: the wedding was attended by the Secretary Elect of the Committee to Re-Elect Captain Obvious.
But wait a tick! Eight-thousand bucks for a wedding cake? I know American dollars aren't quite what they used to be, but that could still easily buy a private performance from 1980s glam metal band Winger, right?
(I know you were thinking the same thing.)
I don't know whether the cake really cost $8,000, but it's so outlandish that I want it to be true. Thus, I'm happy to perpetuate the rumor. (THE CAKE COST EIGHT-THOUSAND DOLLARS!)
Find Tim Burton characters as toys on Ebay