If more golf carts looked like this custom Batman Tumbler golf cart spotted on the Warner Bros. studio lot, I'd sure play a lot more golf!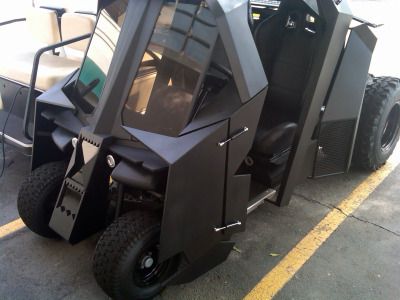 HA, HA! Just kidding. It'd take a hell of a lot more than fancy carts to get me on the golf course. We're talking about attractive topless ladies at every tee offering free massages* and magical iPhone 4s that work on Verizon.
Then we can talk about your stupid put-the-tiny-ball-in-the-tiny-hole game.
Via This L.A. Life, who invented a game about putting a medium-sized ball in a tiny hole. So far it hasn't taken off.
* Wiiiiink.
Find LEGO Batman Tumbler kits on Ebay