Twentieth Century Fox hates them some Joss Whedon something mighty. (Enough so to make me talk like an excitable, illiterate Southerner… which is about half-an-adjective away from having me pegged.)
First, Fox mucked up the original broadcasting of Firefly. The network execs stuck it in the Friday night "death slot", showed the episodes out of order, and then pulled the rug out before the first thirteen episodes could be aired.
Now, Fox is raining on the Buffy parade. It has put the kibosh on fan-organized sing-a-longs at midnight showings of the musical episode Once More, With Feeling at movie theaters around the country. (Think Rocky Horror Picture Show for this generation of geeks.)
Holy Heathen Heaven forbid that News Corp-owned Fox should forgo a few thousand dollars in revenue to allow these self-motivated alpha fans to promote the show (and DVD sales!) in a viral, grassroots fashion, especially now that Buffy has found new life in comic book form. Way to kick yourself in the shins, Fox.
Now that Fox is severely overreacting to use of unlicensed images, I wonder what expressions of fandom will be hit, next?
ACTION FIGURE RE-ENACTMENTS
Dear Resourceful, Determined, and Dedicated Star Wars Fan:
It's like, totally awesome how you staged the original Star Wars movie in a three-minute YouTube video using only action figures produced by our partner company, Mattel. ("Mattel", its trademark, and any related intellectual property of Mattel and its subsidiaries are All Rights Reserved, Mattel Corporation.)
However, we have come to understand that you have not directed the customary 25% of proceeds to George Lucas. Therefore, we ask that you–with all due haste–direct 27,500 views (25% of your 110,000 views on YouTube) to the LucasFilm home page. Failure to comply will result in a flurry of nasty-grams from our legion of attorneys. (They live to sue. It's a little scary.)
Love,
Your Friends at LucasFilm
P.S. Do you happen to know who produced that "I'm a Marvel" video? The one where the Spider-Man action figure is shooting the breeze with the Superman figure, in a parody of those Apple "I'm a Mac" ads? That dude owes damages to Tobey Maguire for failing to observe his first-refusal rights to voice the Spider-Man role.
FAN ART
What happens when we stop letting artistically-inclined fanboys take liberties with the images of our favorite characters? We miss out on goodness like Budget Batman: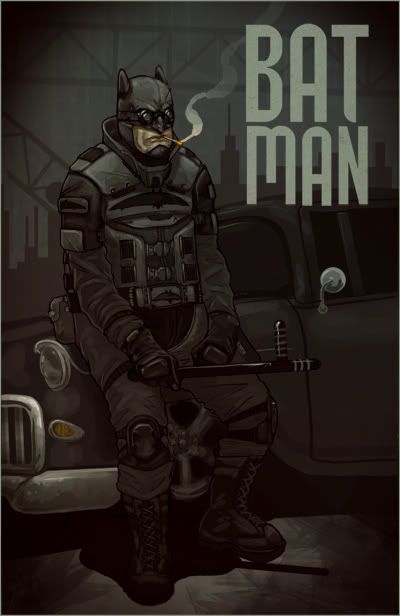 And there is so much left to explore! Speed-Freak Wonder Woman. Captain Asian-America. The Queen Lantern.
COSPLAY (COSTUME PLAY)
As much as I'd like to undermine the rights of these folks who seem to primarily enjoy dressing up as characters from Japanese anime and video games, they do bring a bit of spice to the world.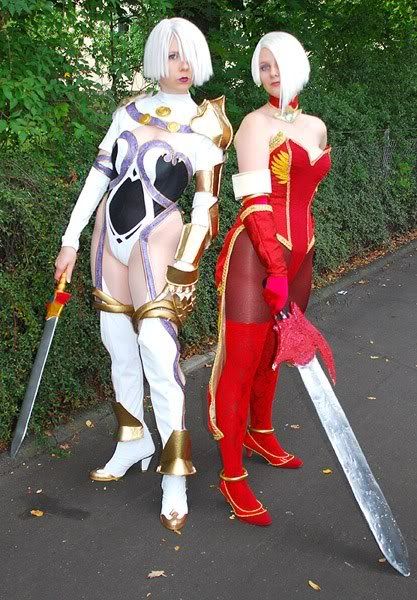 Let your freak flags fly.
Plus, what's the point of going to comic book conventions without the promise of scantily-clad Slave Leias? Hooray for scantily-cladness!