As far as art forms go, graffiti is generally pretty subversive.  Even this geek-friendly "…I am your father" Star Wars graffiti that various artists have plastered on walls all around the planet-globe.
Sure, telling a cutesie inside joke with an AT-AT and an AT-ST from Star Wars–one of the highest-grossing entertainment licensing properties in all the history of capitalism (hallowed be its name)–basically glorifies The Man and all that has kept his flannel-clad, bearded-faced, franchise-soiling efforts afloat.
But still… it's vandalism!  Take that, Mr. Authority Figure Guy!
On the other hand, Dave from Bristol (who does "English" in the passport sense of the word, but not as much in the Strunk and White's Elements of Style sense), favors a milder, LEGO-driven approach to this art piece: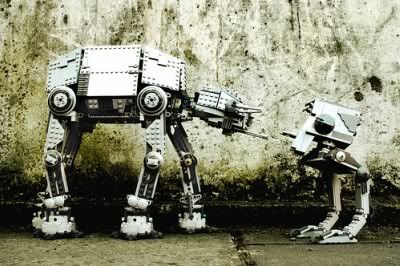 Redux on a Dolk's graffitti work, a cultural cross refference in itself. I took this specially last weekend and got a lot of funny looks at the entrance to the supermarket where this was taken. Well it was the best backdrop i could find, with those lovely concrete textures. Even so i had to go there with a brush to dust it down before the shoot, and avoid the legs of passing pedestrians
Because nothing says "subversive" like beautiful composition, exquisite textures, and tripping up people who just want to get some damn milk and toilet paper.
Enjoy this post? Subscribe to Great White Snark by – or by RSS.