Thanks to this Photoshop job of a "real-life" Teenage Mutant Ninja Turtle by binome on Worth1000, I find my usually-indomitable vocabulary reduced to the most painful and trite of exclamatory internet cliches.
It's like by brain–in a fit of spastic glee at the sight of this adorable little ninja bastard–has failed to responsibly fire the neurons that would normally turn things like "Full of WIN!" into multi-syllabic, adult-type adjectives and other descriptors.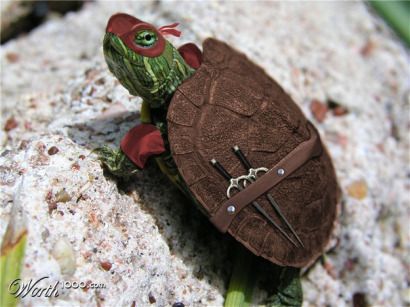 Anyway, here's what my hobbled word-factory finally produced; feel free to judge me:
HA HA! LOOK! EPIC TURTLE FTW! W000000T
Via Geekologie, who is awash with victory.
Find vintage Teenage Mutant Ninja Turtles figures on Ebay